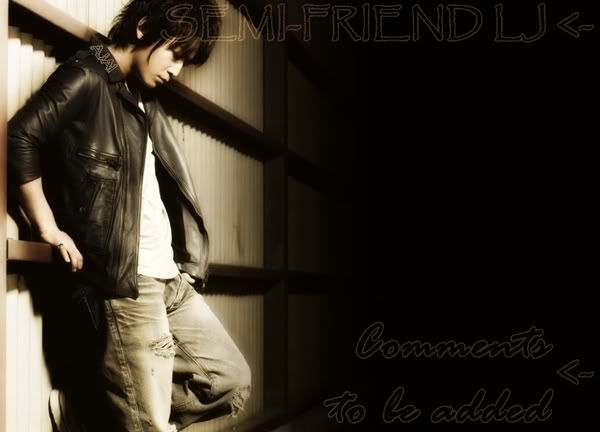 Hello~ Ajai-desu!
I'm juz an ordinary fan-girl...tee hee~ :P
and simple(?) university student.
I love KAT-TUN as a whole and
I love
Kamenashi Kazuya
so much!!!
So, I won't tolerate any bashing on them! ANY! :D
Feel free to add me if u want, i want to make more friends.
Don't bite me, please... coz i won't bite u.
This will be 80% (?) Friend-locked journal.
*PUBLIC is only for posts (mostly graphics) i make to share in the COMMUNITY(s)*
Which means i won't lock any post that i'm going to share in community :)
Please
leave some comments
first before u add me, that will be called
Special Happiness
for me.
Wanna know about me, you can just ask me ;)
I won't accept anyone who don't leave any note here from now on.
Use English please~ ;)
But, if u know and want to use Malay, i don't mind. :)
Yoroshiku ~ ^_^
EDIT: On SEMI-HIATUS starting March 1st, 2010 until further notice
EDIT (March 12th, 2010): Back online ^^


EDIT: On HIATUS starting March 29th, 2010 until further notice




EDIT (May 5th, 2010): Back online ^^
EDIT (April 13th, 2014): It's been a while since I was here, back online. However, I seem to have forgotten how to customized my journal. Sigh~ Due to busy and hectic working life, I still haven't got the chance to figure that out to clean up this messy livejournal. I will get my lj clean and fancy once I have time to replenish my memory. Haha...anyway, it's nice to be back here, catching up with as much as I can...please guide me well, thank you. *bow*
Peak:
accomplished
Yorokobi no Uta: SS501 - Love like this